Hair loss is a serious problem, and practically all women are sick of counting how much hair they lose every day. Hairfall is not isolated; it is frequently accompanied by other scalp disorders such as dandruff, baldness, hair thinning, and greying (Onion Oil).
Of course, pollution is the biggest reason; no matter how hard we try to protect our hair by wrapping it in a scarf or applying a heat protectant, we are exposed to pollution every day. It continues to deteriorate and lose its natural lustre day by day. Also, hard and filthy water harms your hair, not only by leaving the strands weak and lifeless but also by draining the natural oil from the hair, making it prone to breakage.
We may not be able to do much about pollution, but we can certainly take better care of our hair by employing all-natural and homemade remedies to prevent hair loss and damage. Continue reading to learn more about the magical hair oil that can solve all of your hair problems.
Onion oil has been shown to promote hair development and prevent hair loss. This is a popular Ayurvedic remedy for achieving healthy, strong hair. All you need is a consistent commitment to using this hair oil on a daily basis. Along with utilising this miracle hair oil, remember to eat a healthy, nutrient-dense diet.
Benefits of using Onion Hair Oil

Due to the presence of numerous antioxidants, onion juice aids in the successful optimization of the hair development cycle, notably for improving the action of key enzymes that work together to prevent hair fall.
It is a miraculous oil for hair regrowth. Onion oil can effectively prevent and treat baldness if used on a regular basis.
Onion oil is high in sulphur, which helps to prevent hair breakage, split ends, and hair thinning. Other nutrients in onions protect hair from oxidation. It also keeps the pH of the hair in check, preventing premature greying.
Onion juice also guarantees that your hair is well maintained, and the quality of your hair follicles is improved due to the presence of sulphur.
It nourishes the scalp and promotes blood flow, resulting in thicker, stronger hair growth.
You can blend onion oil with any carrier oil to boost its benefits; for example, you can combine onion with olive or coconut oil. Your hair will also seem shiny and healthy if you use onion oil.
To moisturise your scalp, use onion oil as a conditioner before shampooing. It keeps hair moisturised and frizz-free by acting as a natural conditioner.
Onion oil can be used on the scalp and hair in the following ways:
To ensure that you obtain the direct benefit of onions without any added chemicals, it is usually advisable to extract the juice of little onions at home. Use a few drops of oil in your palm to treat baldness and massage it into your scalp for 15-20 minutes. Allow the oil to rest in your hair for a few hours before washing it out with a natural shampoo. To reap the benefits quickly, repeat the practice every two days.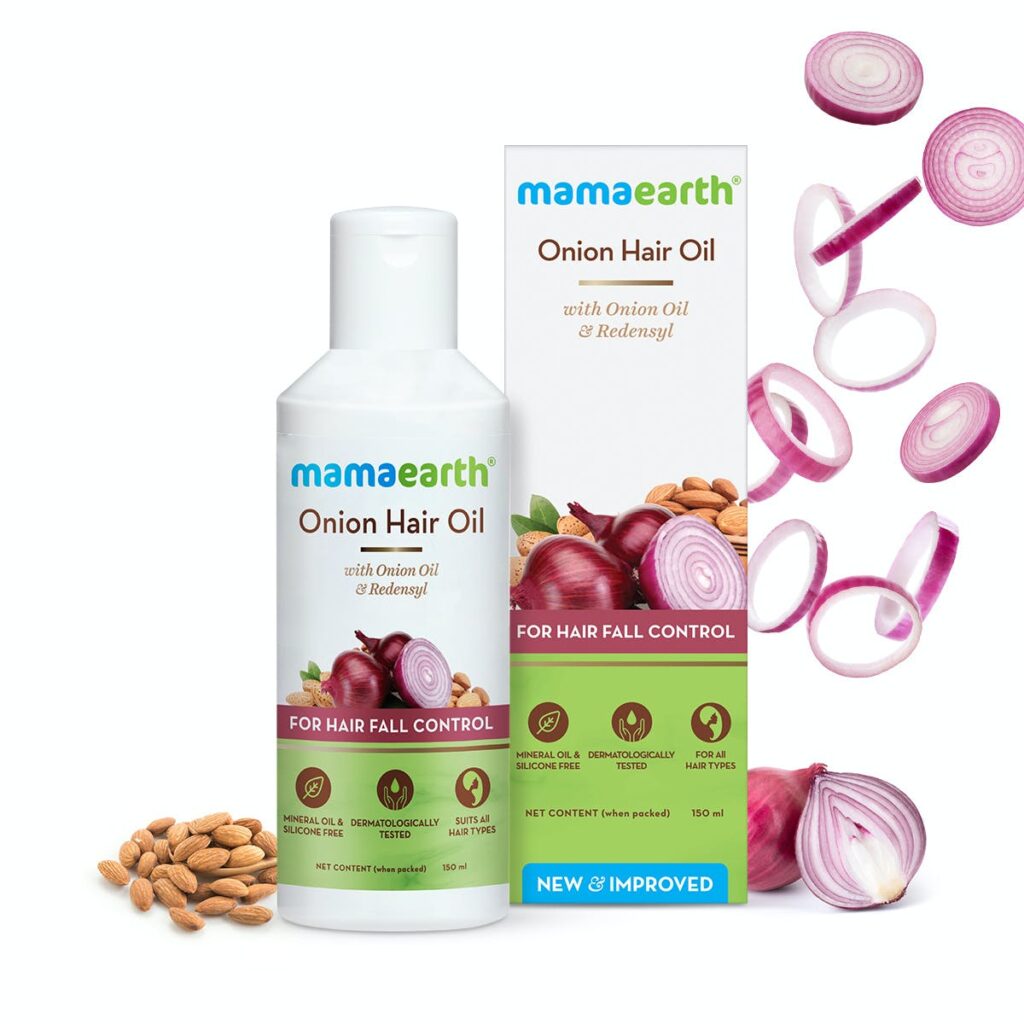 To reap the advantages of onion oil, combine it with any carrier oil of your choice, such as raw coconut oil. Warm onion oil and coconut oil together and massage it into your hair and scalp. Allow it to air-dry overnight before rinsing it thoroughly with organic shampoo. It will condition your hair, prevent hair loss, strengthen your hair, and promote hair regrowth.
More about Onion Oil
"Onion hair oil" is a concoction that addresses all of these ailments in one bottle. Hair problems are primarily caused by our hectic lifestyles and, as a result, improper eating habits, pollution, and stress. It can be difficult to make immediate lifestyle changes, but applying hair oil to nourish your hair is simple.
Onion hair oil nourishes the strands of your hair, making them look healthy and shiny. It promotes hair development, which improves thinning and adds volume to a person's hair. Massaging onion oil into the scalp in small circular motions can improve blood circulation, which helps to strengthen the roots.
Onion Oil: Can it help reduce hairball?
Onion juice can aid with hair loss in a variety of ways, according to science. Onions, for example, are abundant in dietary sulphur, a nutrient that our bodies require.
Sulfur is found in amino acids, which are protein building blocks. Proteins, particularly keratin, which is sulfur-rich, are required for vigorous hair growth.
Onion juice can supply extra sulphur to maintain strong and thick hair, preventing hair loss and boosting hair growth when applied to the hair and scalp.
Onions contain sulphur, which may aid in collagen formation. Collagen, in turn, promotes the formation of healthy skin cells and hair.
Onions are also thought to improve circulation. Onion juice applied to the hair and scalp may enhance blood flow to hair follicles, resulting in better hair growth.
Studies
According to a 2002 study Onion juice's hair loss science was put to the test by Trusted Source. Hair growth was higher in the group that washed their hair with onion juice than in the group that washed it with tap water. In addition, men tended to benefit more than women.
The study, however, is almost a decade old, and not all of the participants completed the test. More research is needed to determine how onion juice works and whether it has any major benefits. Nonetheless, the study is cited in many more recent studies and evaluations of natural hair loss remedies as convincing evidence that onion juice can be beneficial. On the other hand, onion juice should not be used to treat hair loss disorders such as alopecia or pattern baldness. It can help accelerate and safeguard current hair growth, but it hasn't been proven to reverse hair loss.
When not to use it?
Onion juice for hair is generally considered harmless. If you have an onion allergy, avoid using onion juice on your hair.
Onions can be highly corrosive to the skin, even in people who aren't sensitive to them. Depending on how effective your concoction is, you may experience redness and itching as a side effect. This can be avoided by combining onion juice with an emollient such as aloe vera or coconut oil.
Don't use onion juice to treat alopecia or other types of hair loss. A hair transplant is the only effective treatment for some disorders, such as alopecia. The same can be said for baldness.
Additionally, certain drugs can make a person's skin more sensitive to onion juice (such as aspirin). If you're worried about possible interactions, conduct a skin test or consult your doctor.
Onion Oil on Instagram | Marina Sodi | Naian Gonzalez Norvind | Chiara Scelsi